Ro & SuZ, Amsterdam, 1992
Magenta was founded in 1992 by Suzette Bronkhorst and Ronald Eissens in Amsterdam, in response to the Hoyerswerda riots
and other violent racist attacks
on migrants in Germany. Since the foundation's inception, a substantial number of projects have been realized, mainly based on the modus operandi: bring the activity to the people instead of making the people come to the activity.

Both Ronald Eissens and Suzette Bronkhorst passed away in 2021. They will be sorely missed. Both Suzette an Ronald were pioneers in the campaign against online hate speech, dedicated activists, role models to many and, above all, wonderful persons and true friends. They will be remembered as a brave and honest couple, who both fought till the end.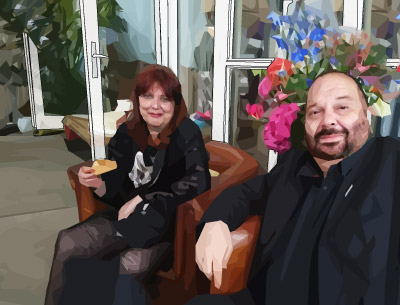 This website...
...is dedicated to Suzette Bronkhorst and Ronald Eissens, and their relentless, uncompromising battle against racism, discrimination, fascism, extremism and cyber hate. We will preserve their legacy and continue to give our best for a better world, a world of peace, hope and respect for all.