Awarded to Jean-Hubert Bondo, Africa Sans Haine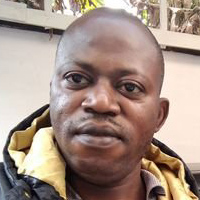 Speech
by Brieuc-Yves (Mellouki) Cadat-Lampe, at the International INACH Conference 4-5 November 2021
Dear friends,
Good morning. It feels particularly good to be part of this international INACH conference.
I am Mellouki Cadat-Lampe, a former board member of INACH 2002-2005, and a board member of the Magenta Foundation. As you remember, Magenta was founded after the anti-racism demo 'Never again' organized by Suzette Bronkhorst and Ronald Eissens in Amsterdam, in November 1992, in response to the Hoyerswerda riots and other violent racist attacks on migrants in Germany.
Our Magenta foundation, Dutch based, combatted racism and discrimination, initially by organizing a variety of IRL activities in the Netherlands and from 1995 on, also online. In 1997 we founded the Dutch complaints bureau for discrimination on Internet (MDI). It was the first organization of its kind in the world.
As internet doesn't have borders Magenta created several international activities, often under the name I CARE (Internet Centre Anti-Racism Europe). Together with our German Partner, Jugendschutz.net
, Magenta founded INACH in 2002. Suzette & Ronald were so proud of it. INACH doing pioneering work with members in 5 continents over 20 countries.
As you are all aware, our friends Ronald and Suzette passed away this year. Ronald in January and Suzette in October. They will be sorely missed. Both Suzette and Ronald were pioneers in the campaign against online hate speech, dedicated activists, role models to many and, above all, wonderful persons, and true friends. They will be remembered as a brave and honest couple, who both fought till the end.
In May Suzette and I, we discussed ways to uphold the legacy of Ronald.
Suzette decided three things:
First, we would transfer the archives of the Magenta Foundation to specialized institutions. We now have agreements with the City Archives of Amsterdam regarding Magenta's activities that primarily relate to the Netherlands. For the international part, think for instance of the WCAR 2001 files, we are looking at this moment for an institution willing to archive the relevant Magenta documentation,
Second, we would renew the Magenta Foundation site. It's done. The legacy of Ro and Suz is documented and presented on the new site. This site is dedicated to their relentless, uncompromising battle against racism, discrimination, antisemitism, fascism, extremism and cyberhate.
Third, we would create a Ronald Eissens Award. In light of the worsening of her health, Suzette agreed it would be a shared Award. The Ro & SuZ Award derives its name from Ronald and Suzette. Ro & SuZ, always tried to take a fresh and non-partisan approach to tackle problems on internet. Also showcasing all the positive opportunities, the internet has to offer a.o. through:
reporting on March 21 activities;
in the early days of internet, offering web space to anti-racism organizations that didn't or couldn't have their own;
Organizing with partners online human rights conferences.
The Ro & SuZ Award Award is awarded from now on, every year by the Magenta Foundation to (an) organization(s) and/or (an) individual(s) that develop()s innovative ways to combat cyber hate or works towards "Bringing the Online In line with Human Rights".
With the Ro & Suz Award, Suzette decided to encourage and highlight new initiatives to make internet a better place.
Alas, is she is not here today to present the Award to the first winner.
Luckily, she was able, in August, to select our first winner. As she wished, this first Award is attributed in the framework of the INACH Conference 2021.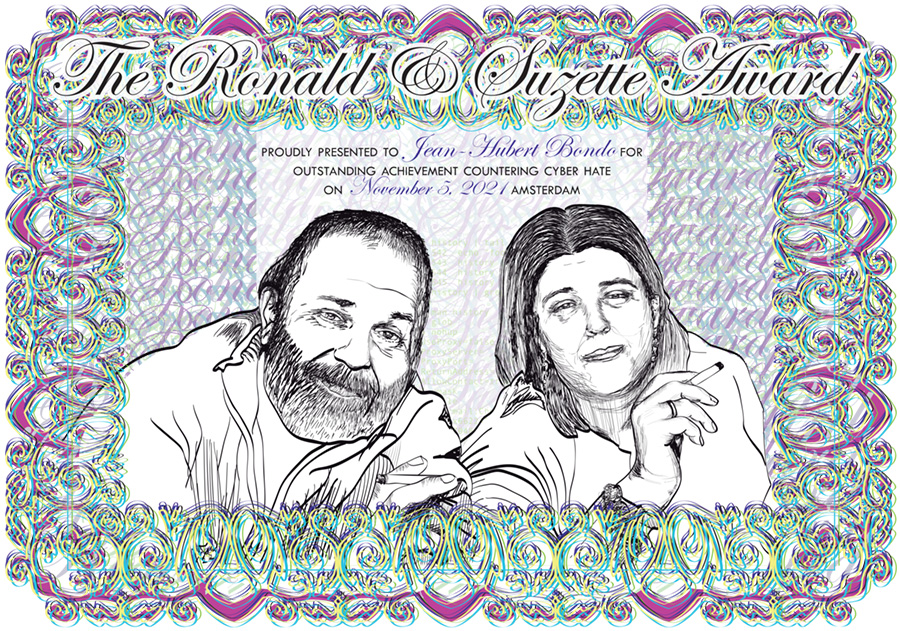 click image for larger version
This year's theme of the INACH conference is 'Social media and democracy'. Suzette strongly expressed the hope that the first Ro & SuZ Award would raise the profile of the cyberhate situation in Africa, a forgotten continent when it comes to developing strategies to stop cyberhate. The fight against hate speech in Africa is a huge and hard work. INACH
supports this work. This afternoon, there is a dedicated session with respect to the African situation in this regard.
In the words of Suzette: "This award goes today to an organization and a man that are trailblazers in the fight against cyberhate in Africa."
The Ro & SuZ Award 2021 is attributed to an organization, that is the first online media specialized in the fight against hate speech in Africa. It is based in the Democratic Republic of Congo, with correspondents in several African countries. It recently became a full member of INACH.
Dear friends, it gives me great pleasure to tell you that the Ro & Suz Award 2021 goes to...
Jean-Hubert Bondo
, and his organization Africa Sans Haine
(Africa Without Hate).
Jean-Hubert, toutes mes félicitations!
Mellouki Cadat-Lampe
Secretary Magenta Foundation
Friday, 5th November 2021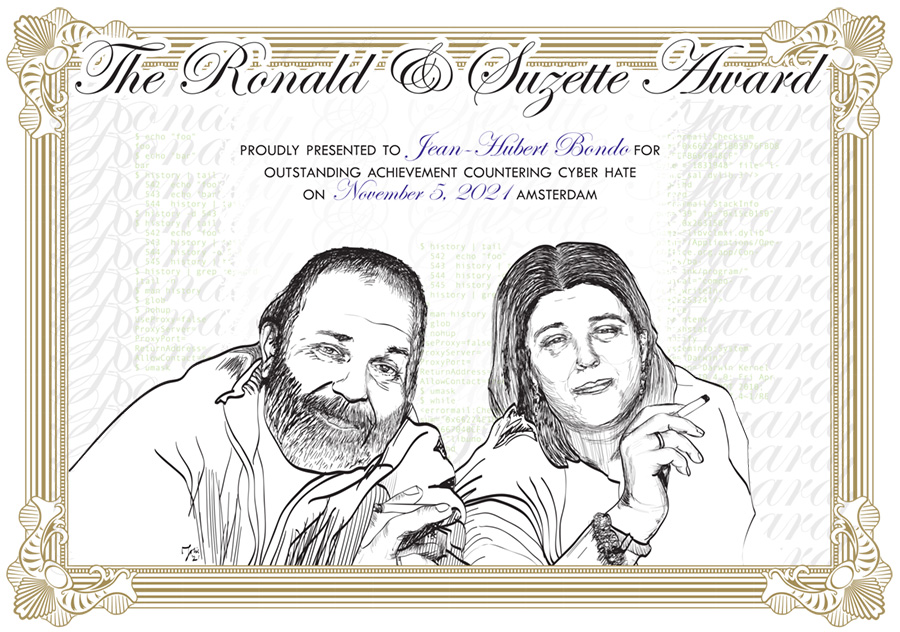 click image for larger version